Louise Bond-Fraser Author and Illustrator​
The children's books below are both written and illustrated by Louise Bond-Fraser. Louise teaches English at the university level. Though her background was originally in Shakespearean studies, Louise has taught courses on the subject of children's literature for over 10 years. Louise decided to put her knowledge of the area to good use and as a result her first two books are ready to enjoy!
Pong the not-BIG Pig
​
Pong the not-BIG Pig is a rhyming picture book about an undersized and undervalued piglet who uses his brains to save his siblings' bacon and, in so doing, receives the recognition he deserves for being the fine piglet he is- and always has been.
Timbo and a Fair Cop
​Timbo and a Fair Cop is an adventure story about a small mouse who lives at the end of a human's garden in a little town called Button-Bootsville. Timbo and his friends are involved in the solving of a mystery. The book is fully illustrated with watercolours by the author. Can you guess whodunnit?
Sulky Santa's Christmas Letter
Sulky Santa's Christmas Letter is a delightfully illustrated verse for Children of all ages!
Mirth without Matter
Coming Soon!!
​
Mirth Without Matter is a change of direction from both Pong the not-BIG Pig and Timbo and a Fair Cop. This is a book of light verse with something to make the whole family smile. The book is illustrated by the author in watercolour.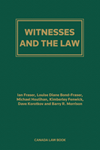 Witnesses and the Law is an interdisciplinary book that bridges the communication gap between psychology and the law. The book covers topics such as the fallibility of memory, post-traumatic stress disorder, repressed memory, body-language, mug shots, police line-ups, Generation Y, children as eye-witnesses and police interview techniques.